Diversity: Beyond gender
Gender appears to be the over-riding 'diversity' issue in asset management – but how do other diversity elements such as race fare?
The Lens notes that the UK's Investment Association (IA) has found that less than 1% of asset management staff are black and so a number of firms working through the Diversity Project are now trying to address the issue.
Yet, in a recently published report on governance by our colleagues at Funds Europe (in association with Caceis, the custody bank) it was found that just 8% of respondents considered 'ethnic' diversity to be an important area for the industry to target.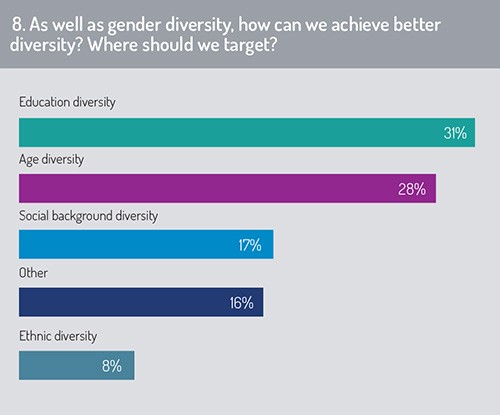 The Lens speculates that such a relatively low score could be because the survey only allowed respondents to select one area of diversity, meaning it could be that respondents felt that their preferred area of diversity – educational diversity – best captured a number of other diversity fields.
In a webinar that runs concurrently with the report, an audience member suggested CVs viewed by interviewers should be submitted without applicants' names or other clues about race that might cause unconscious bias against candidates.
Find our Fund Governance webinar here
Educational diversity scored 31% of the vote when respondents were asked for their preferred area of diversity excluding gender. Again, the IA has brought attention to education and the related topic of social background. Chris Cummings, IA chief executive, has said class is arguably "one of the last taboos" to be discussed in the City.
Disability was another important diversity issue. This chimes with a comment from Yves Perrier, chief executive of Amundi, who last year told Funds Europe that disabled people faced tremendous barriers to finding jobs.
Executive Interview: Yves Perrier
In fact, many respondents said they would have selected multiple areas of diversity, had they been able to.